Rob Allen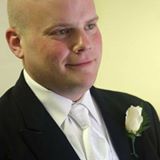 I have lived and worked in the Meridian area for my entire life.
I am a 2000 graduate of Enterprise High School and started working in radio while I attended Meridian Community College in 2001. I later attended the University of West Alabama and returned to Meridian in 2003 to start full-time in radio.
I have also announced high school football on the radio for Meridian High School and Lamar School collectively over the past 12 years.
I also served as the public address announcer for Meridian Community College sports for 15 years before coming to Q101.
Tune in weekdays, 10-3 pm to hear me while you make it through your workday. Also join me every weekday at noon for the 90's Lunch Buffet and test your music knowledge with the FlashBack Clip of The Day.
Other than radio, I enjoy anything to do with sports, watching and collecting movies, reading, and anything to do with Disney. My wife and I are extreme Disney nerds, and I am also a big Star Wars fan as well.
.